Here is the definitive list of my Top 7 free CAM software for CNC routing and milling. The list includes 2D, 2.5D and 3D programs. One criteria is the software must not be time limited – and genuinely free to use. Functionality may be limited in slightly in evaluation versions but the list below is guaranteed 100% free CAM software, with nothing to pay – unless you want to of course!
All the CAM software listed allows you to create CNC router toolpaths from either 2D or 3D geometry.
I am using a simple 'Hello' sign as an example file that can be downloaded as 3D STL file for 3D CAM software. If you are using 2D packages you can download an SVG or DXF file.
---
1. Easel
Easel is a CAD and CAM tool from Inventables. It's browser based, but it is definitely one of the easiest CAD/CAM tools. They have done a great job with usability, so this is a great place to start if you are a beginner. It is 2D/2.5D only though, so it can't handle STL files for 3D milling.
The free version has limitations but you can do a lot, like making signs, cutting profile parts etc. V carving is also just about possible if you use a V bit instead on an end mill.
Even though the free version is limited, you can still use auto-tabs, custom end mill diameters, custom feeds and speeds, SVG editing, GCode import and export. It can import SVG files, and there are loads of free shapes and text tools to get started. you can also download your work as either SVG for editing in another package like Inkscape or also export your GCode if needed.
As well as design and toolpath functions, you can also control and jog your machine as long as it is compatible with the Easel driver. Minimillr machines are GRBL compatible so you can easily set up your Minimillr machine in Easel using this guide.
Go to the Easel website to get started!
2. Kiri:Moto
Kiri:Moto is a browser based CAM tool that can also be used as a 3D printing, laser cutting as well CNC milling toolpath generation.
It can be tricky to get the hang of it, but check out this video from the developers Grid.Space but skip to 28:20 where the CAM module is introduced.
Kiri:Moto can import 3D STL files so it is great for all sorts of 3D relief work, or complex 3D surfaces, such as this 3D carving of the Game of Thrones Direwolf.
Kiri:Moto has an excellent 'image to heightmap' feature, so you can import a photograph or image and it will create 3D surface that can be carved into wood etc. This feature is often only available on higher end software like Vectric VCarve.
Try out Kiri:Moto here, be sure to select the CAM module.
3. Fusion 360
This is the daddy of them all. Big and complex with a fairly steep learning curve. It is still free to hobby users though functionality is limited. Even so it offers a lot of CAD/CAM functionality free and is more than capable of quite complex CNC jobs.
You can download Fusion 360 here, and make sure to select "For personal, hobby use" otherwise you will be on a 30 day trial of the professional commercial software. The free version is limited but basic features are generous and still include:
Standard 2D/3D CAD tools
Basic manufacturing – 2.5 axis milling & 3 axis milling, turning, FFF additive, fabrication
Local rendering only
Maximum 10 active and editable documents, unlimited inactive documents.
Limited file type import and export
Fusion 360 is capable of milling and profiling in 3D and is good if you are well versed in 3D CAD, but it is quite difficult to get started. There are lots of videos on YouTube but a good (and entertaining!) place to get started is Evan and Katelyn's Fusion 360 CAM tutorial for CNC beginners video.
4. Carbide Create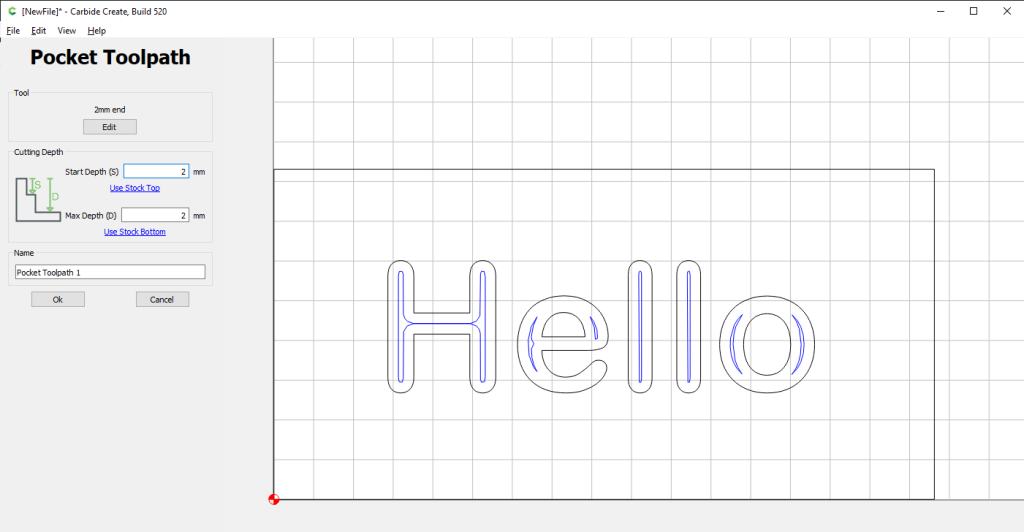 Carbide Create is a free 2D CAM software from the makers of the Shapeoko CNC router. It quite easy to use and produces gcode that can be used pretty much any CNC router machine.
Carbide Create is downloadable software so you don't actually need an internet connection to run it. This can be useful if your workshop doesn't have a good internet connection. Mac and PC versions are available.
It can import SVG and DXF files which is convenient. It also has useful image tracing function as well as a simulation features that help you visualise the end result. There is V Carving which is also very easy to use and setup.
Carbide also has a tool library where there are a lot of preset tools already available but you can also program your own tools as well as custom feeds and speeds.
Overall Carbide create is often overlooked but easy to use CAD CAM software. There is also an extensive set of training videos on the Carbide3D website. Download Carbide Create CAM Software here.
5. F-Engrave
F-Engrave is a G-Code generator for Engraving and V-Carving. It can use TrueType fonts so it has a lot of creative possibilities with V carving text. It can also import DXF files – but not SVG.
F-Engrave also has an image trace function but it can be slow and clunky with few customisation options compared to image trace offerings from Inkscape, Carbide etc. The program is written in Python which may make it slow on older computers.
It has a few features of note like text on a circle, and it's engraving and v-Carve functions are highly customisable. It offers a V carve finishing path as well as end mill clearing for larger areas that can't be covered with a V bit.
GCode paths are shown in 2D and the gcode files must be saved for sending to the machine with other software like Candle or UGS.
Download F-Engrave V Carve and Engraving software here.
6. EstlCAM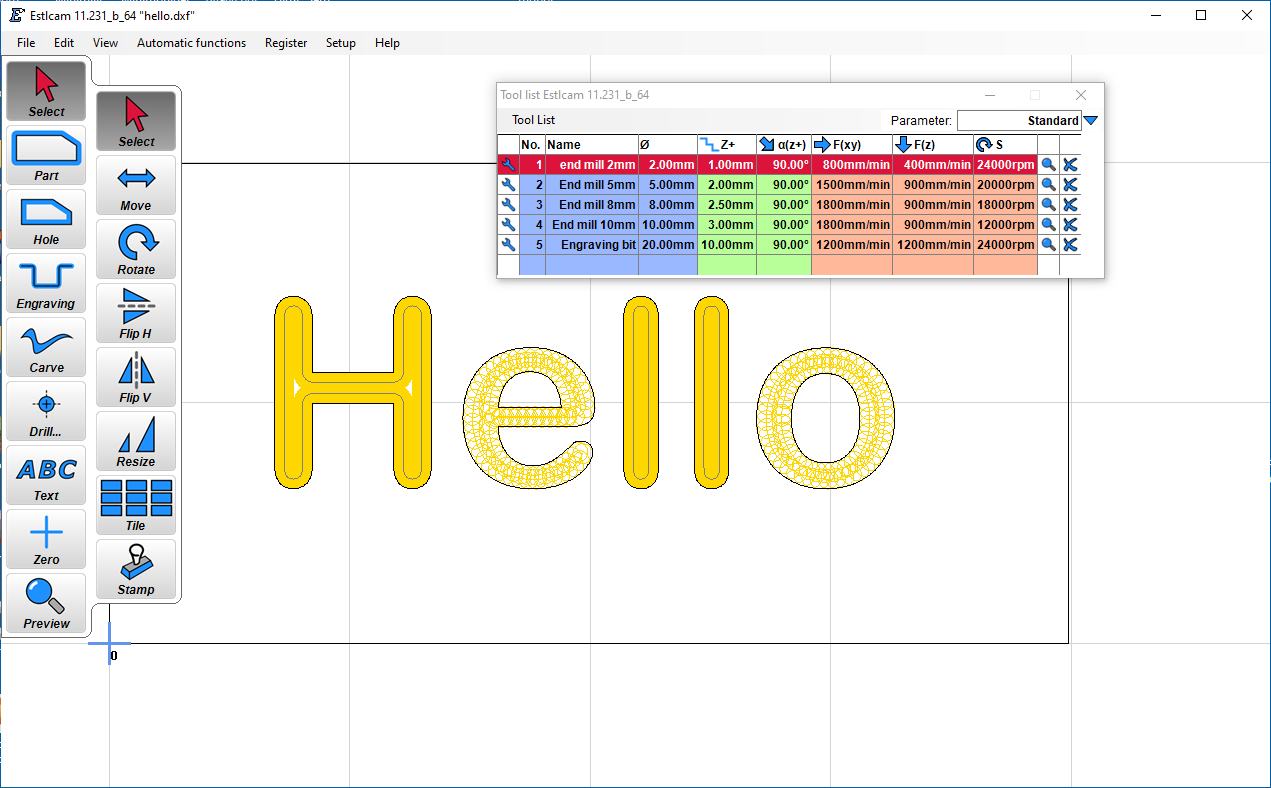 However, I confess that though a lot of people recommend EstlCAM I have always found the workflow a bit clunky and unintuitive. However, it clearly has a lot of 2D and 3D features, and also has a very detailed and integrated machine controller element so you can send code as well as create it.
Download EstlCAM CAM software here.
7. Openbuilds CAM Gcode Creator
OpenBuilds CAM Gcode Creator is likely a software tool developed by the OpenBuilds community specifically for generating G-code instructions for CNC machines. G-code is a standardized language that CNC machines understand, containing instructions for various machining operations.
Key Features:
CAD Integration: The software likely allows users to import CAD models of the parts they want to manufacture. This could include both 2D and 3D designs.
Toolpath Generation: OpenBuilds CAM Gcode Creator is likely designed to create toolpaths based on the imported CAD geometry. Users can define various machining strategies, such as roughing and finishing passes, contouring, and drilling.
Customization: Users may have the ability to customize parameters such as cutting depth, tool selection, spindle speed, feed rates, and more.
Simulation: The software might offer a simulation feature to preview and verify the toolpaths before generating G-code. This helps users identify potential issues, collisions, or errors in the machining process.
Post-Processing: Once the toolpaths are defined, OpenBuilds CAM Gcode Creator likely converts the data into G-code instructions that are compatible with the specific CNC machine being used.
User-Friendly Interface: The tool is likely designed with an intuitive and user-friendly interface to make it accessible to both beginners and experienced CNC operators.
OpenBuilds Community Integration: Given the reference to "OpenBuilds," the tool could potentially be integrated with the OpenBuilds community and resources, offering support, tutorials, and a platform for users to share their projects and knowledge.
Compatibility: The software may be designed to work with a range of CNC machines and controllers, allowing users to choose the setup that best fits their needs.
Go to the Openbuilds CAM website here
The List of Free CAM Software